By Ana Moreno
A little bit of history
One of the events marking the first steps of Aude! is the visit of Richard Gerver in November 2015. Few will be able to forget the dramatic image of an impressive crane crumbling towards the sea when trying to pull a car out of the water. With this metaphor, Gerver wanted to visualize that the solution of education is not so much in posing more resources but in analyzing the problem at its root and exploring creative alternatives.
From that meeting a clear idea emerged: because a student learns and wants to continue learning throughout his life, his learning experience must be unforgettable and inspiring. Going to school should be like going to Disney, where at every corner there is a surprise, something interesting, smiling faces, diversity of possibilities. In short, where every day is a special day for everyone, regardless of age, talent or preferences.
Thus was born Dream Schools, a methodology aimed at transforming the classroom, the school and any educational experience into a great adventure, an exciting challenge of improvement and learning, for each and every one of the students.
A context
In today's world, change is part of everyday life. After the Cold War, the American Ministry of Defense created the acronym VUCA to define the volatile, uncertain, and increasingly complex and ambiguous world in which we live. The speed of technological advances and research means that great discoveries such as the telegraph, electricity or the steam engine, which used to advance every hundred years, are now produced daily. Today, this vision of the world is becoming more and more real, and to all social spheres: organizations, governments, lifestyles, health and education systems. It is necessary to design strategies capable of providing successful responses in the uncertain and complex environment of today.
It seems as if this highly globalized and technological world has started a journey with no return to the paradise of human progress. However, in parallel with these dizzying changes there are great contradictions that pose a threat to all of society, political leaders and governments. Like the Covid-19 pandemic that has left the entire world in almost universal confinement. According to the United Nations, more than 50 per cent of humanity lives below the poverty line, climate change brought about by "progress" can have devastating effects in a short time, and in many parts of the world cultures and political systems prevail that are far from guaranteeing human rights and dignity.
Dream Schools has asked itself the question: what do the new generations need in order to successfully face all these challenges of the future and become upright people, responsible citizens and competent professionals, who continue to learn throughout their lives?
In his latest book "Future wise. Educating our children for a changing world", David Perkins, after a review of what is worth learning in order to live in the 21st century, concludes that the most necessary is wisdom. Perkins, who presents Gandhi as a paradigm of wisdom, explains the following anecdote: "One day, Gandhi was going to take a train with some of his collaborators. The platform was full and just as they got on the train, already underway, Gandhi dropped one shoe and, in a quick gesture, took off the other and threw it away as well. His companions, surprised, asked him why he was doing this and he replied, without giving it any more importance: "I thought that it might be the poor man who finds my slipper who will need the other one". With this attitude of the great Indian leader, the author illustrates how he is a wise person who not only solves problems effectively, but in doing so, takes into account the needs of others and his environment, forgetting his own".
Thus, Dream Schools makes David Perkins' proposal its own and assumes, like him, that although it may be pretentious to try to educate for wisdom, it is possible to pretend to educate for the path of wisdom.
A point of view
"The best way to predict the future is to create it," says Stephen Covey in "The 7 Habits of Highly Effective People," and to do so, he proposes a continuum of maturity that, through the acquisition of a series of habits, leads to a balanced and happy life. The Dream Schools approach coincides with Covey's idea of moving beyond stages of maturity, and proposes acquiring one of the six strengths of the AIRISS model at each stage of the process. In this way, it is possible to continue learning throughout life and to develop ethical leadership that allows us to reach the wisdom necessary to live fully in the context of the 21st century.
The DREAM SCHOOLS model turns the 6 AIRISS strengths: Autonomy, Identity, Resilience, Integrity, Sociability and Wisdom, into an educational objective.
Each detail of the pedagogical model is designed to contribute to the continuous development of the 6 strengths in a holistic way, thus achieving a growth dynamic that reaches up to 30 skills, habits and virtues necessary to lay the foundations of the four pillars of education of the present and the future: learning to know, learning to do, learning to live together, learning to be.
A way of understanding education
Every person is unique and has the right to the best education. Dream Schools values this idea thanks to three educational principles that guide its implementation in each school: equity, inclusion and personalization. In its proposals on equity, the OECD proposes inclusion as the best way to "ensure a basic minimum standard of education for all".
Just like the Russian dolls, each principle is included within the other, being a quality personalized attention the key that allows the other two.
In order to guarantee equity, available resources are optimized so that each student receives an excellent education that favors his or her school and personal success.
In this sense, its greatest strength is a universal vision of learning and the integration of some methodologies and teaching tools specially designed to enhance the learning of each student from their personal uniqueness, ensuring their continuous progress and maturation.
As Pere Pujolàs suggests in the title of his book "Learning Different Students Together", the inclusion of diversity in school goes far beyond posing different students in a classroom together. It involves working and learning together, with each other, because everyone has something to contribute, with some ability or another, from a culture, race, economic level, etc. Educational inclusion is a basic principle for a world and a society that aims to integrate all people. Dream Schools makes its own the proposals of the great pedagogue who was the teacher Pujolàs and voice in cooperative learning a perfect ally to get students to live their learning experiences together and help each other in their daily adventure of growth in the classroom.
But inclusion and equity are not possible without proper personalization of education. In the 1960s, Víctor García Hoz developed an innovative pedagogical movement: "Personalized Education".
Starting from a personalist vision, García Hoz creates a whole pedagogical architecture aimed at achieving the maximum potential of each student.
The DREAM SCHOOLS model is inspired by this great pedagogue and considers "personalised attention to the autonomy, uniqueness and openness of each student" as the basis for generating a dynamic of continuous growth.
From Harvard University, Todd Rose explains that in the 1950s, the American air force had the best pilots and the best planes, but did not achieve good results. After a long investigation with an engineer he came up with the idea of studying the cockpits of the planes and discovered that no pilot fit in them: they were made for the "medium pilot" and this one did not exist. Dr. Rose, author of the best-selling book "The End of the Average", tries to change the educational paradigm centered on the average student in order to focus on each individual and thus achieve maximum performance. For Dr. Rose, it is the educational context that must be adapted to the learning needs of each student, providing each with the appropriate learning challenges for their development at all times.
But as César Coll says, personalising education requires a global vision that stimulates personal and meaningful learning by each of the learners, regardless of where they learn.
Dream Schools takes the three authors as a reference and proposes a personalized education, focusing the attention of the educational activity and prioritizing the resources towards the development of the full potential of each student.
Based on evidence
As Seneca said, "he who learns at the root never forgets completely". Today there has been a lot of evidence about what works in education and how people learn. Dream Schools assumes some of the most relevant ones and takes them as the foundation of its pedagogical proposal. In recent years, there have been great scientific advances in psychology and pedagogy, many of which have been strengthened by an emerging science: neuroeducation.
Carol Dweck revolutionizes the psychology of education with her research on the effects of a growth mentality on personal and academic performance. For Dr. Dweck, "if parents want to give their children a gift, the best they can do is teach them to appreciate challenges, grow from their mistakes, enjoy the effort and keep learning forever. In this way, their children will not depend on praise and will have a lifetime of self-confidence to grow. Dream Schools changes the teacher's paradigm about their students in a way that flees from hashtags and promotes challenges, effort and a positive attitude towards mistakes and learning.
To the document "The nature of learning. Research Inspires Practice", the OECD proposes 7 principles needed to design educational environments that promote quality learning:
Apprentices in the middle.

The social nature of learning.

Emotions are essential to learning.

Recognizing individual differences.

Include in all students.

Assessment for learning.

Building horizontal connections.
These seven principles are complemented by the evidence generated by an increasingly consolidated and prolific Neuroeducational science that confirms the importance of paying special attention to the healing and development of the brain to ensure not only academic performance, but also an emotionally balanced and wisely directed life.
As the philosopher Isauro Blanco says in his book "Mindware" on neuroeducation: "it is not an exaggeration to think that human intelligence is essentially social and that personal interactions shape not only the functioning of the brain, but also its organic structure. It is becoming increasingly clear that the structure and function of the brain is determined by the way experiences shape the genetically programmed maturity of the nervous system.
Without falling into biological determinism, since genetics does not define human destiny, nor is it possible to establish a competition between brain-mind, genetics-education, nature-environment, we can say that the human mind is created through the interaction of internal neuropsychological processes and interpersonal experiences.
"Visible learning" is the book that is having the most influence at the moment in the international educational world. In it, its author, John Hattie, details the analysis of 250 factors of school performance, from the results obtained in more than 80,000 empirical researches with samples that add up to more than 300 million students. Five of the factors with the greatest impact on student performance are:
Teacher effectiveness, clarity, credibility, growth mentality.

Students' expectations.

Responses to their intervention and feedback.

Cognitive analysis tasks.

Involvement of families.
Finally, one of the most relevant pedagogical advances in education is the great paradigm shift on learning generated by the introduction of thought as the main engine of the learning process.
Dream Schools makes its scientific progress and designs, from its evidence, an integrated and effective, dynamic and sustainable learning model.
Parts of the whole
As educator Dylan Wiliam says, "the greatest impact on learning comes from the daily experiences that students have in the classroom, as a result of how the teachers teach, rather than from what they teach.
The teaching method, while not the only important thing, is critical to promoting meaningful and personal learning that helps students become life-long learners.
A pedagogical model that responds to the present and the future has to integrate various methodologies that work together to achieve educational goals.
In his book "Neuroeducation in the classroom", Jesús Guillén makes a good synthesis of connections between evidence of how we learn and methodologies to shape them in the classroom and proposes 7 keys to motivation:
What a curiosity! Start a topic with something that arouses curiosity.

This interests me! Contextualized learning objectives.

I accept the challenge! Challenges that require the right effort.

I'm the hero! Encourage participation.

Progress! Growth mentality.

This is worth it! Focus the praise on effort.

I'm useful! Cooperate to learn.
Its greatest strength is a universal vision of learning and the integration of some methodologies and teaching tools specially designed to enhance the learning of each student from their personal uniqueness, ensuring their continuous progress and maturation.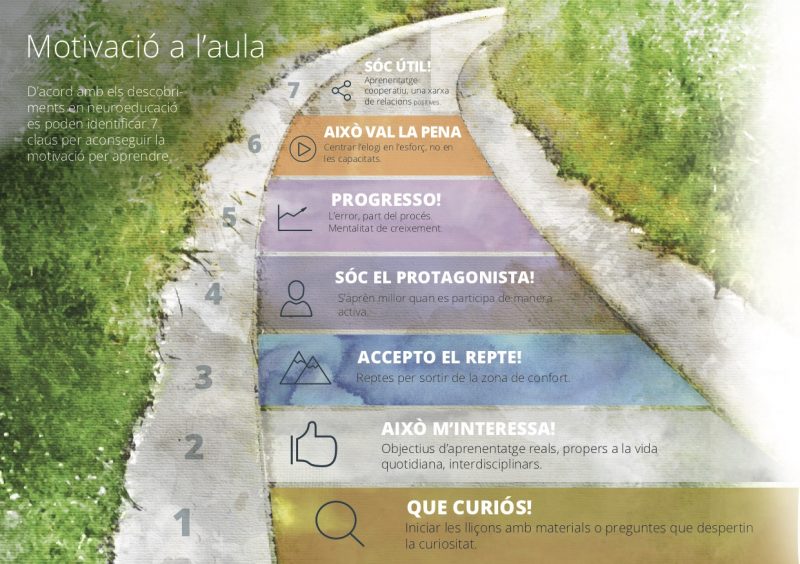 Dream Schools is the result of the careful design of a method that integrates various methodologies, strategies and didactic techniques united to cooperate with a common objective: to achieve the learning and effective development of all students, adapting to the needs of each individual, in each of their maturation periods.
It is a whole composed of five essential elements:
Cooperative Learning (CL).

Critical and creative thinking (PCC).

Formative Evaluation (PA).

Universal Design of Learning and Technology creators of Personalized Environments (DUATEP).

Competential Learning and Projects (ACP).
The first three form the basis on which the other two are built. Each one brings something necessary and complementary to the rest. Together they cooperate to achieve educational success based on the evidence of 21st century learning.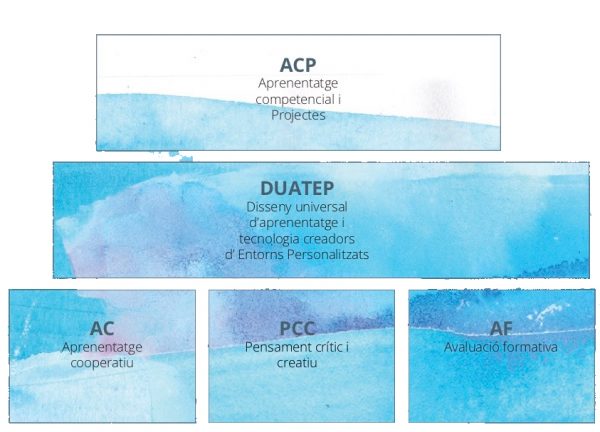 Each element is necessary to ensure some principle of learning, some key to motivation and to achieve the educational objectives of the DREAM, the strengths AIRISS by the 21st century.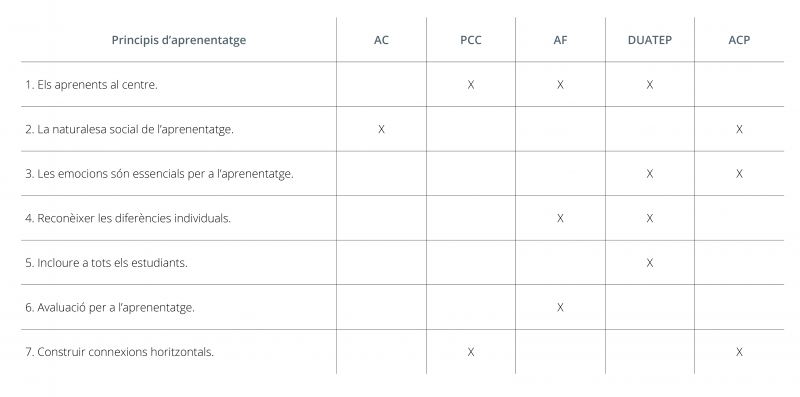 Cooperative learning (CL) is, according to Brothers Roger and David Johnson, "the didactic use of small groups in which students work together to maximize their own and others' learning.
Evidence shows that cooperation, compared to competitive and individualistic methods, leads to the following results:
Improved performance and productivity, long-term retention, intrinsic motivation, level of reasoning and critical thinking, by all learners, whatever their learning style and pace.

More positive relationships between students: increased team spirit, supportive and committed relationships, appreciation of diversity and cohesion.

Better emotional well-being. Sense of identity with strengthening of self, social development, self-esteem and ability to cope with adversity and stress.

To cooperate effectively in the classroom, five essential elements need to be structured:

Positive interdependence, whereby students share tasks, goals and materials, creating a commitment to success among team members.

Personal and group responsibility, by which each member commits to carry out his or her part of the task.

Face-to-face stimulating interaction, whereby some members promote the learning of others, striving to learn themselves and to help others learn.

Social and intellectual skills necessary for teamwork.

Group assessment or group processing, whereby students analyse how they are working together and how they can improve the effectiveness of their group work.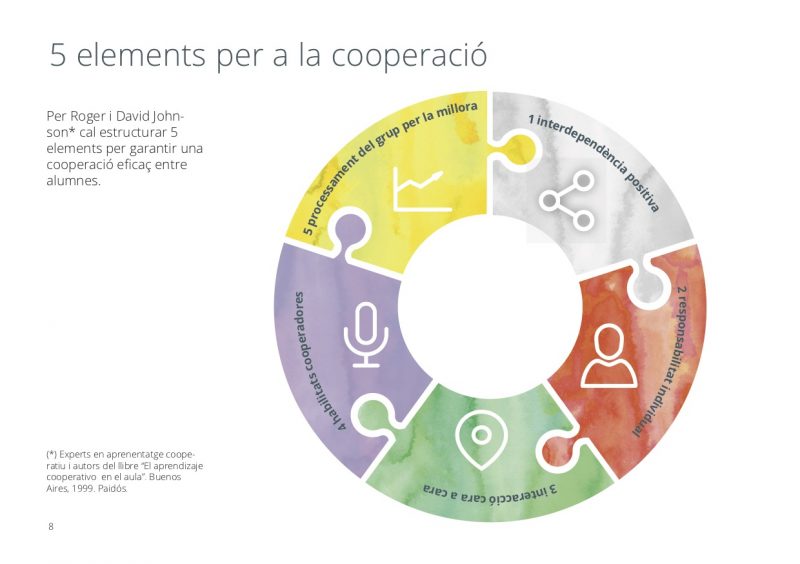 A very useful tool for structuring cooperation is roles. In addition to helping develop skills, they ensure interdependence and personal responsibility, and they allow for maximizing the effectiveness of learning by making cooperation more sophisticated on four levels: starting, working, understanding and deepening. The thinking routine "Think-Group-Share" encourages individual responsibility. Other useful techniques are puzzles, team tournaments, etc.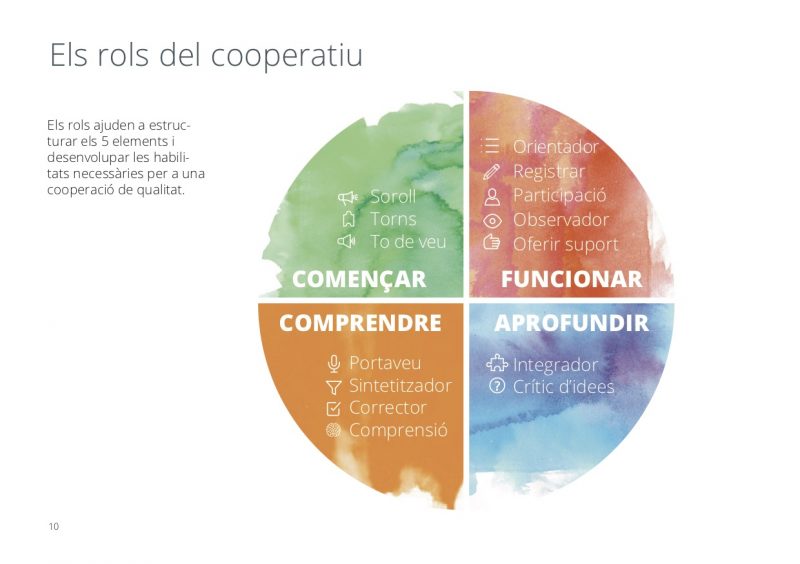 The CA contributes to consolidate the following skills, habits and attitudes of the 6 strengths AIRISS by s. XXI, for each of the five dimensions of personal growth.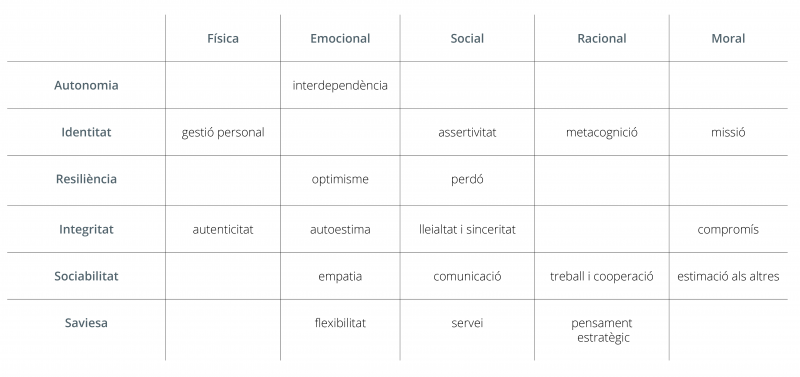 Critical and Creative Thinking (CCT). As Ron Ritchhart says, "thinking in all its forms has to be part of all that rubbish", because "learning is a consequence of thinking". Evidence shows that at least the 8 thinking movements of the understanding map are involved in understanding in depth: Observe and Describe, Explain and Interpret, Reason with Evidence, Ask Questions, Make Connections, Consider Points of View, Discover Complexity, Capture the Essence, and Draw Conclusions. Other important cognitive movements are: Searching for Cause-Effect Relationships, Comparing and Contrasting, Relationship of the Parts and the Whole, or Thinking Metaphorically.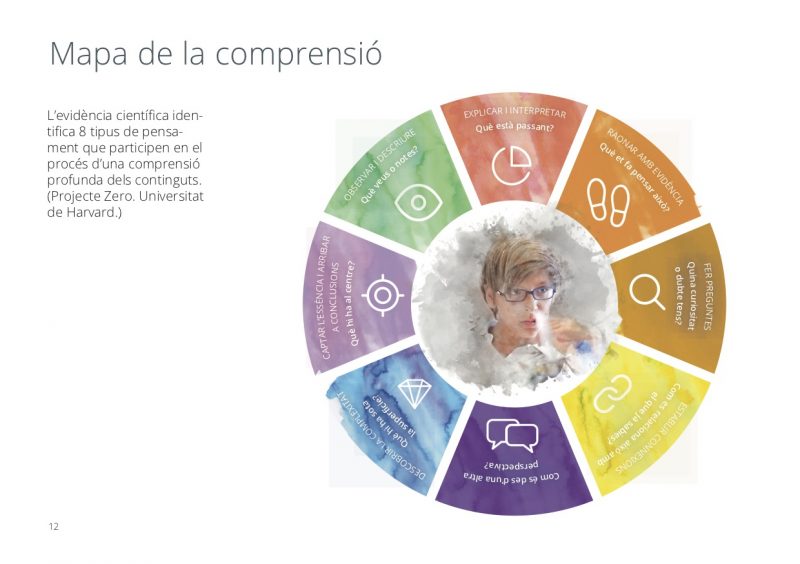 In recent decades, educators, psychologists and philosophers have devoted great efforts to increasing the presence of thought-based learning in schools. For Robert Swartz and David Perkins, although everyone is capable of thinking, they do not always think the best way. To make important decisions, solve problems, respond creatively, or to exercise our judgment free from prejudice and biased views, we need to develop critical and creative thinking skills. The two authors propose using different routines and thinking skills to learn to think, and applying 9 principles:
Human thinking tends to be rushed, narrow-minded, lazy and wrapped up, but evidence shows that it can be improved.

To improve our thinking, we need to explicitly cultivate the use of verbal and graphic organizers.

The infusion of thinking into curricular content helps to improve the quality of thinking and the understanding of content.

The development of thinking requires cultivating three aspects: skills, processes, and dispositions.

Explicit attention to thinking while learning content is basic to making it competent and to achieving transference to other contexts.

Metacognition, and especially its higher level that involves thinking about the way we think, is a basic aspect of teaching thinking.

Teaching for transference requires spending specific time experimenting with wider applications and generalizing to other contexts.

The infusion of thinking into teaching needs to be frequent and diverse enough to enhance skills and deepen understanding of content.

For the infusion of thinking into teaching, schools and educators need to be committed to a continuous process of personal development.
The CCP helps to consolidate the following skills, habits and attitudes of the 6 AIRISS strengths by s. XXI, for each of the five dimensions of personal growth.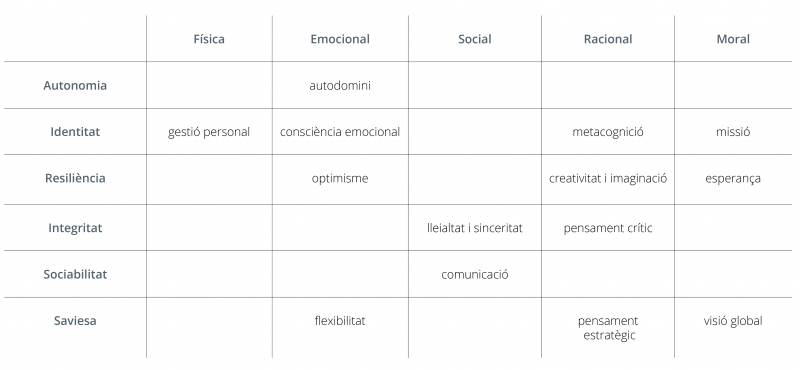 Formative Evaluation (FE). After decades of study and research on how to improve student learning, Dylan William compares assessment to a bridge between teaching and learning. For Dr. Dylan, no matter how good a teacher is at teaching, it does not mean that the student learns. Continuous communication of evidence of student learning is necessary to help teachers adapt their teaching to each learning situation. The researcher identifies 5 basic strategies for quality formative assessment:
Clarify, understand and share learning intentions (objectives and assessment criteria).

Create effective tasks, activities and conversations that bring out the evidence of learning.

Provide feedback that promotes learner improvement.

Activate learners as resources for the learning of others.

Activate learners as masters of their own learning.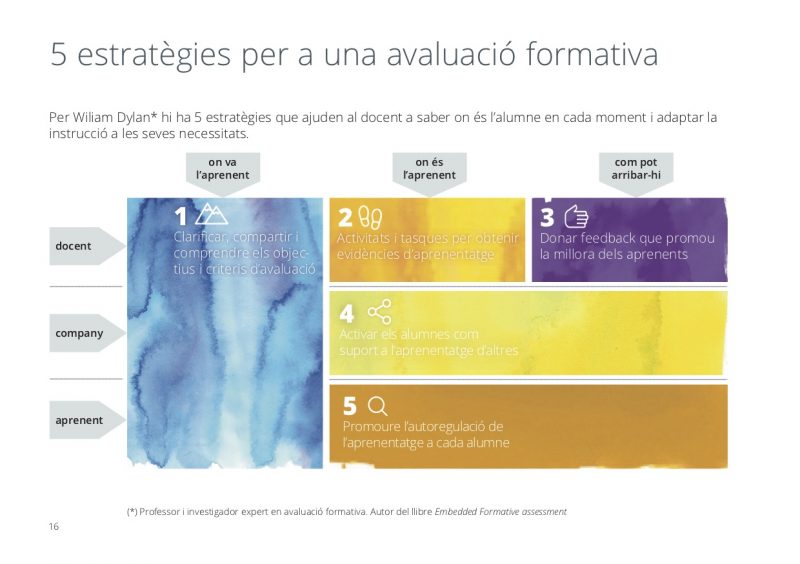 FA contributes to consolidate the following skills, habits and attitudes of the 6 AIRISS strengths by s. XXI, for each of the five dimensions of personal growth: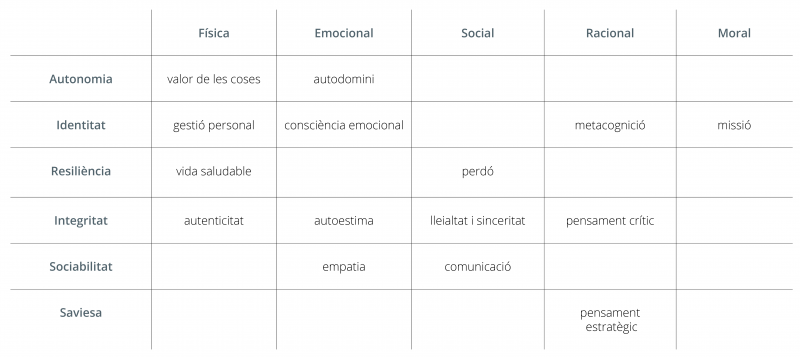 Universal Design for Learning and Technology creators of personalized environments (DUATEP). Customized education is based on two considerations. On the one hand, the development of each student as an autonomous person, unique and open to others and the world. On the other hand, from the creation of optimal conditions for the growth of each student from his or her maturity situation.
For David Bueno, "every brain is different" and "education has to be as personalised as possible, to get the most out of it".
Isauro Blanco, in his book "Mindware", comments that "the brain is as intelligent as it needs to be" and, "if there is no further neurological development it is for lack of challenges, of problems to solve and of the methodology to obtain results; the brain is designed for survival and this principle has to be considered to be applied in education".
To meet the specific needs of each learner, and thanks to the Universal Learning Design (UDL) and technology, customized learning environments allow the level of challenge to be adapted to each learner. In this way, they are stimulated and motivated to learn, their specific needs are detected and barriers to learning are removed, while they are empowered by the learning potential that technology gains day after day.
The SAD is based on three principles to provide universal options: 1) perception; 2) action and expression; and 3) motivation and involvement in learning. The foundations of SAD, such as the 7 principles of motivation or learning, converge by clarifying nuances and reinforcing basic aspects to ensure equal and inclusive learning.
The DUAEP contributes to consolidate the following skills, habits and attitudes of the 6 strengths AIRISS by s. XXI, for each of the five dimensions of personal growth.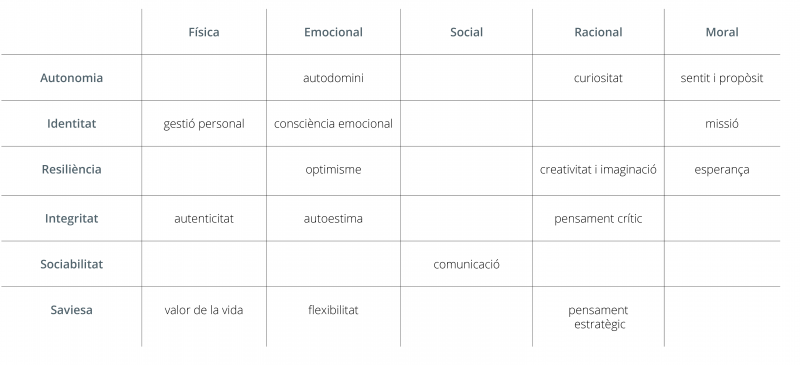 Competitive Learning and Projects (CLP). Competential learning and project work involves putting the "cirereta" on the cake of the Dream Schools method. It consolidates teamwork, puts critical and creative thinking in context in a significant, interdisciplinary and global learning, and favours a versatility that facilitates adaptation to the level of challenge and motivation of each student, and an effective evaluation of the learning process.
Most projects can be approached as research or problem solving, all of them focused on real situations that are physically or emotionally close to the students. Depending on the learning objectives, one model or another can be chosen. Al Dream has chosen the Design Thinking method that integrates empathic communication and creativity to solve problems. The fact of contextualizing a real problem and being able to offer a solution to specific people, favors the motivation of the students and their involvement in a Learning at the Service of the Community and the improvement of their own world.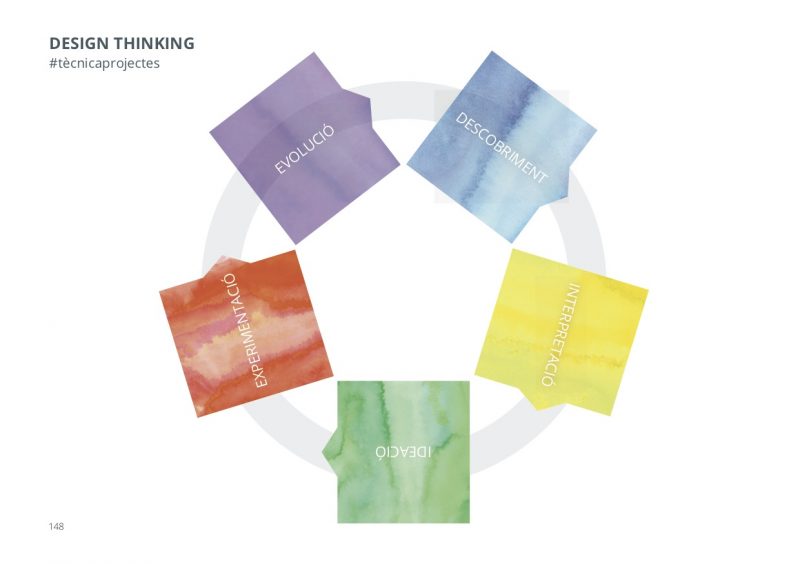 The ACP contributes to the consolidation of the following skills, habits and attitudes of the 6 AIRISS strengths by s. XXI, for each of the five dimensions of personal growth.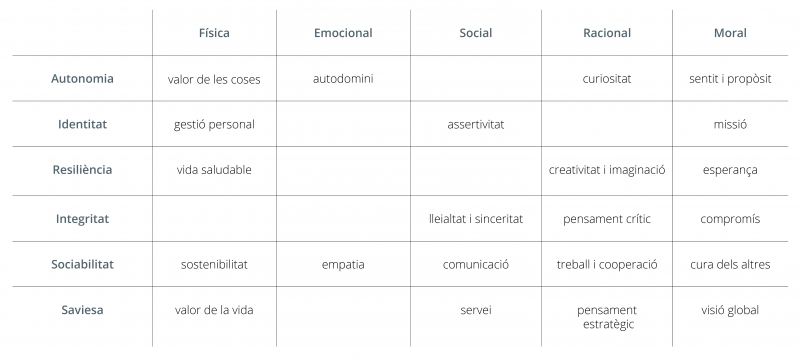 Continuing to learn throughout life
In 1998, Seymour Papert gave a lecture at the Imperial School in London entitled "The Power of the Child: Keys to Learning in the Digital Age". In it, he said that "learning while you are at school, which you will need throughout your life, no longer works. The skills you learn at school will no longer work, they will all be obsolete when you get to your job except one: the only skill really needed is the ability to be able to learn. This ability to be able, not to give the right answer to questions you were taught in school, but to situations outside the school setting. It is necessary to educate people who know how to act when faced with situations for which they were not specially prepared.
This type of learning is mainly a competitive learning and has the quality to generate expert learners.
Learning that goes beyond skills and knowledge and develops a series of attitudes, habits and dispositions, such as curiosity, critical thinking, resilience, empathy, commitment or wisdom, which give new generations a strong awareness of the value and opportunities for learning that they find daily in their environment, inside and outside the school.
For Ron Ritchhart, the best way to internalize these dispositions is to create a culture where the conditions necessary for its development are present on a daily basis.
After years of research, Ritchhart describes, in his book on cultures of thought, 8 cultural forces that are the driving force behind the creation of the ideal learning environment where students can develop the dispositions to become expert learners and learn throughout life:
Learning expectations.

Rich and interesting opportunities.

Time to think.

Model learner.

Language of thought.

Around where thought is visible.

Interactions between learners and content.

Thinking strategies
To help create a culture that promotes learning, the Dream Schools model provides teachers with a wide range of tools that are especially diversified and selected so that they can choose, at any given time, those that are best suited to the learning situation. There are 10 infographics that summarize the methodologies and 75 tools of seven types:
#rutinapensamiento

#destrezapensamiento

#tecnicapensamiento

#tecnicacooperativa

#tecnicacreativa

#tecnicaproyectos

#instrumentoevaluación
A sustainable transformation
A school with a future needs a transformation that is sustained over time. In a VUCA world, we cannot expect educational paradigms to remain for long, neuroeducational findings have only just begun and technology is advancing at a dizzying rate. That is why Dream Schools distinguishes five factors of sustainability:
Institutional leadership of educational transformation that includes organizational and pedagogical dimensions.

A change of paradigm of the teaching role towards a reflexive questioning of their educational practice and the effort for continuous improvement.

Teamwork of teachers.

Training and continuous accompaniment.

A technology at the service of education.
The Dream Schools Team is a key element in making change and sustainability dynamic. It is made up of an interdisciplinary group of experts and teachers, and leads the transformation thanks to three axes: 1) a continuous training process; 2) educational coaching accompaniment for each teacher, alternated with co-*coaching and shared teaching between teachers; 3) a pedagogical leadership structure that personalizes and energizes the process in each educational center.
Each school has a team of pedagogical leaders who receive special training and follow-up, and have a double function. On the one hand, it leads innovation in the school by providing models, support and guidance to the rest of the teachers, and on the other hand, it participates in the leadership of the Dream Schools Team by providing feedback, ideas and implementing prototypes.
Thus, the transformation follows a cycle that feeds back from the Dream Team to the leaders and from these to the teachers, guaranteeing the gearing of innovation. It happens within each school: 1) I learn; 2) I practice, help and am helped; 3) I participate, imagine new challenges and share.
Bibliography
Richard Gerver (2012). "Crear hoy las escuelas del mañana". Biblioteca de Innovación educativa. SM.
David Perkins (2016). "Educar para un mundo cambiante". Biblioteca de innovación educativa. SM.
Jacques Delors (1996). "La educación encierra un tesoro". UNESCO.
Víctor García Hoz (1985). "Educación Personalizada". Rialp
Todd Rose (2017). "Se acabó el promedio. Cómo tener éxito en un mundo que valora la uniformidad". HarperCollins Español.
Carol Dweck (2016). "Mindset. La actitud del éxito". Ed. Sirio.
Hanna Dumont, David Istance i Francisco Benavides (2010). "La Naturaleza del Aprendizaje. Investigación para inspirar la práctica". OCDE.
John Hattie (2017). "Aprendizaje visible para profesorado". Didáctica y desarrollo.
Isauro Blanco (2017). "Mindware. Neuropsicología aplicada a la educación". Editorial Morsan Internacional.
David y Roger Johnson (1994). "El Aprendizaje cooperativo en el aula". ASCD.
Ron Ritchhart, Mark Church, Karin Morrison (2014). Hacer visible el pensamiento. Paidós.
Robert Swartz. "Aprendizaje basado en el pensamiento" (2015) y "Pensar para aprender." (2019). Biblioteca de innovación educativa. SM.
Wiliam Dylan (2011). "Embedding Formative Assessment". Solution Tree Press.
David Bueno (2017). "Neurociencia para educadores." Rosa Sensat.
Ron Ritchhart (2015). "Creating Cultures of Thinking: The 8 Forces We Must Master to Truly Transform Our Schools". Jossey Bass.